Wormall Civil is a third-party accredited company to AS/NZS ISO 9001.
Wormall Civil operates a Quality Management System complying with AS/NZS ISO 9001. Regular internal and external auditing is carried out under the terms of the third-party accreditation. A full-time QA Manager and support staff are employed by the civil construction company, including dedicated HSEQ Clerks on the company's project sites.
As part of its Continuous Improvement Program (CIP) and in accordance with its QA accreditation, Wormall Civil actively seeks feedback from clients and consultants as to its ongoing performance. Feedback received is analysed by senior management and acted upon to reinforce and encourage good working practices by staff with a strong focus and commitment to continuously improve the company's overall performance.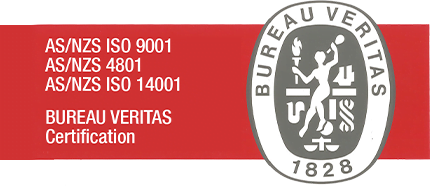 We are committed to the Think Safe/Act Safe safety philosophy, which focusses on the individual taking responsibility for the safety of themselves and of those around them.
Occupational Health & Safety Accreditation
Wormall Civil is Cm3 OHS Prequalified and employs a full-time Health, Safety and Environmental Advisor to ensure compliance at all times.
Wormall Civil is committed to completing civil construction projects in a safe and timely manner, providing a safe and healthy working environment for all of its employees, sub-contractors, clients, consultants and the general public, whilst also preserving the company's and community's assets and property.
All Wormall Civil construction workers must hold a current Blue or White Card (Safety Awareness Training Certificate) before being allowed onto any construction site, with Wormall Civil site inductions undertaken by all new employees and sub-contractors.
The management and staff believe that:
No fatality, serious injury or disease is acceptable.
No task is so important that it cannot be done safely.
All hazards can be identified and their risks managed.
Everyone has a personal responsibility for the safety and health of themselves and others.
Safety and health performances can always improve.
Observance of safe operating procedures and practices need not reduce the efficiency of an operation if adequate preparation and planning is undertaken.